In keeping with a suggestion by a friend of mine, that I actually write about Southern California based bands instead of obscure, one-off acts from faraway lands, I have turned the music portion of the blog temporarily to that mainstay of SoCal music culture-punk rock. While other U.S. cities/regions have their scenes, there is something immutable and permanent about the music and the counterculture surrounding punk in Southern California, notably Orange County. While the rest of America takes to a homogenized Hot Topic mall version of punk, Orange County is the only bastion of pure raucous punkdom, where even a certain subset of parents in their 40s follow current and established bands, get drunk on Jagermeisters and get bruised in mosh pits along with their kids. I haven't noticed this happening much in say, suburban Chicago. Before delving too much into academic psychoanalyzing of the genre and its participants, let's concentrate on some of the music first.
Many small and DYI record labels infiltrate the scene, and I'll profile a few of them in weeks to come. BYO, Hellcat, Nitro, TKO records other indigenous to SoCal labels release a slew of CDs, DVDs, and yes, even vinyl by young bands and compile reissues by older groups like Slaughter and the Dogs.
For now, reviews of present and past albums by TKO bands Broken Bottles, Smogtown and the Stitches. For an interview with another TKO band, the Smut Peddlers, go to Sleazegrinder.com (I conducted the interview under my real name, MM.) The series will continue with interviews with Susan Dynner, the director of the documentary "Punks Not Dead", as well as interviews with other bands, DJs and fans on the scene.
Smogtown
All Wiped Out
Release Date: 2003
Smogtown, known affectionately as the Beach City Butchers, make the kind of relentless, no frills surf punk that gave Socal coastal towns their musical reputation.
This guitar sounds like Motorhead on Ace of Spades on opener You'll Be Observed, and remains blissfully fast for the rest of the EP. Singer Chavez rifles through the songs with a fury reminiscent of Keith Morris. Also featured is a cover of Sex Offender Gender Bender by Vaders Crank. There's nothing blaringly original here but they are entertaining, better than I thought.
Smogtown broke up in 2003 after eight years of hardcore releases, including Fuhrers Of The New Wave and Domesticviolenceland, However, the band has since reformed, and a new 7 inch will be released on TKO July 25.
Broken Bottles
In The Bottles
Release Date: 2003
If you morphed the most mainstream elements of Social Distortion, and/or pumped up the most rebellious elements of Blink 182/Offspring, you'd get Broken Bottles, a quartet featuring former members of The Dogs.
Lyrics are in the Blink vein, addressing such issues as singer Jes The Mess' encounter with Kelly Osborne, Gothic Chics with a tongue in cheek aplomb that brings a smirk or quick grin to your face even if you're against such easy jokes. The Bottles do a cover of the Box Tops The Letter ,such an unusual offering you wonder if that wasn't choosen for comic purposes as well. Of course, offering a song called Pink Swastika concerning, gay Nazis, you can only suspend disbelief so much even in punk. Blink 182 with balls and an early '80s vibe.
8 by 12 Reissue
The Stitches
Released: 2006
This Orange County band has been around since '93. Initially, they released vinyl only and had songs included on several compilations til the initial release of this EP of '77 style punk in 1999 on Vinyl Dog.
Ya know, when even the 1,2,3,4, count-off that begins a CD curdles yer blood, you're in business.
Jackhammer guitar with charisma and tone and a simple but solid rhythm section give the band more of a power-pop feel. Mike Lohrman's snotty, high-pitched vocals are different from most of his peers, but they grow on you. Would Johnny Rotten have made it as a finalist on American (Pop) Idol?
Songs like My Baby Hates Me and Amphetamine Girl provide a pure musical adrenalin rush, the sonic equivalent of the aforementioned drug. Not to neglect alcohol, the EP ends with a cover of the Pogues That Woman's Got Me Drinkin'. (Which, incidentially, is the longest track at .)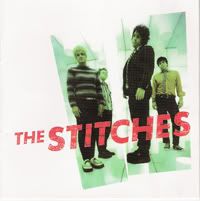 The band's first full length album 12 Imaginary Inches (TKO, 2002) doesn't have the raucous edge of 8 by 12, it still '77 all the way. Produced by Earle Mankey (former Sparks guitarist, who has produced everyone from Morrissey to the Skulls), and Stitches guitarist Johnny Witmer.
The songs are more structured here than on the EP without sacrificing any of the aggression.
Even the humor here is quirky, not juvenile, political, or overbearingly angst-ridden. I can't choose a favorite cut. Pick me up, Automatic, Cars Of Today, Brains On Vacation..no need to skip over any songs here. It's all good.